Features
External Walls

The external finish of the Britannia Range consists of 70 x 34 stud framework, clad with 9mm plywood and plastisol sandwich panel to form a stressed skin construction. The Britannia's steel sandwich panel consists of 0.5mm plastisol, 9mm plywood and a 0.5mm steel balance sheet to the rear side.

Interior Finish

12.7mm Cream vinyl faced plasterboard is fixed directly to the timber wall framing with the joints being capped with special PVC 'H' sections. 12.7mm white 'Plaster' vinyl faced plasterboard is fixed with polytop ring shank nails directly to the timber roof joists; the joins again being capped with special PVC 'H' Sections. 60mm Fibreglass insulation quilt is fitted between the roof joists to help reduce heat loss.

Floor Construction

GS grade timber floor joists, fixed to timber skids and fastened to rebated timber side plates make up the floor frame of the unit. 18mm V313 T&G moisture resistant chipboard is glued and nailed to the timber joists to give a level floor deck ready to receive floor covering. The floor is insulated with a single layer of floortherm foil thermal insulation.

Monopitch Roof

The roof comprises 38mm x 125mm softwood roof joists, chambered to 100mm at ends to create a dual fall each way from mid span. The joists are at 400mm centres. A roof deck of 12mm stirling board is fixed to the joists. A single layer Marley rubberised blanket is bonded to the roof deck and lapped behind the timber fascia. The roof is drained via fallpipe outlets at each soffit end of the roof.

Windows

900mm x 1000mm FOV top hung white UPVC framed double glazed units in standard clear glass and complete with trickle vents and restrictor stays. Window linings are a white UPVC one piece section. Different size and style windows are available upon request.

Standard Electrics

All cabins are fitted with consumer unit, Inlet box, 1no. PIR sensor, 1500mm fluorescent T5 lighting, 13amp twin socket outlets and 2kw convector heaters which are controlled by a thermostat. All electrics, are hardwired within the fabric of the building.

External Doors

External doors are robust, insulated composite steel doors that are armed with a 10 point locking system for extra security. Paintwork finished in and RAL or BS colour. Different size and style doors are available upon request.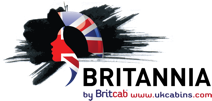 For a full list of the specficiations and price list for the Britannia Range please download our PDF.
Download PDF
Overview and Prices
Size
UPVC Windows
Heaters
Lights
Double sockets
Price
Price
10' × 9'
1
1
1
2
£4,250
Enquire
12' × 9'
2
1
1
2
£4,495
Enquire
16' × 9'
2
1
2
2
£5,250
Enquire
20' × 9'
2
1
3
3
£6,095
Enquire
24' × 9'
3
1
3
3
£6,950
Enquire
28' × 9'
3
2
4
4
£8,250
Enquire
32' × 10'
4
2
4
4
£9,750
Enquire
36' × 10'
4
2
5
5
£10,950
Enquire
40' × 10'
4
3
5
5
£12,950
Enquire
40' × 12'
4
3
5
5
£13,995
Enquire
48' × 12'
6
3
6
6
£16,995
Enquire
* Other sizes available on request.
Not Sure what size you need? Contact us to discuss your requirements.
Make Enquiry